Over the past several years I've been working at Hopper, a travel booking app, overseeing the brand's art direction and drawing lots of well cute bunnies.
The illustration style is cartoony, colourful and friendly — just like the happy little bunnies, and the various landscapes and scenes, which are done in a rounded, simplified style. The combo of cute characters in these stylised, real-world settings, helps give Hopper a point of difference in imagery to other travel brands.
the Buns
The bunnies are the happy, joyous (potentially high) face of the brand. As such, they are consistently present throughout the app and other materials.
Since the very first iteration, the bunny has always been a fun and emotive character. A bit silly, and at times clumsy, they always like to have a good time and wear their heart on their sleeve — making them very sookie. These personality traits help in endearing the buns to the users, as hopefully they will see something of themselves in them.
We also always show them being affectionate (lots of cuddles and kisses) and generally being helpful, supportive, kind, and a bit trolly towards one another. This helps in giving them a lot of character and a bit of story — to what could be a simple or even somewhat arbitrary illustration.
Fair Bear
The sidekick to the bun, is the Fair Bear. He's the more helpful one, appearing throughout the booking experience with a friendly "Hi there!" to give users helpful and important info. He's such a sweetheart.
Fair Bear also represents Hopper's support team. He appears sometimes with a sweet smile, offering help via live chat. He's super keen to help and just a big loveable fluff — even when he's rendered as a chat bot.
I work with a great team here at Hopper and we're always pushing to do better work and bring delight into the app. Below, are some of the bigger, or just plain fun projects, I've art directed at Hopper over the last few years.
Flagship animated AD
We don't do too many videos, or animated ones at that, but it was getting about time we had a flagship video that basically tells you how the app works and why you should totes download it. To help us with this, we worked with
Wonderlust
.
To kick things off, I did a storyboard, then a quick and dirty animatic with my sexy, mumbling, bogan Australian accent.
I kept everything pretty minimal, so it consists mainly of illustrations on plain backgrounds, with the occasional full scene to break things up. This helped us easily cut it down into shorter versions for ads.
We also use a lot of abstracted UI elements from the app itself — to give an idea of what the interactions will feel like. They're made to look a bit more cartoony and bubbly than their app counterpart, to fit in with the style of the video.

One of the things we really wanted to do with this, was have seamless transitions and no hard cuts (well, we broke this rule once, but it funny) so that the whole thing flows nicely from one scene to the next. We also use "wave" shapes as framing devices in the illustrations, and here they helped us transition into full scenes.
Hopper tRees
Recently, we launched a new carbon offset program —
Hopper Trees
. Now with every booking, Hopper will plant up to four trees for free. I lead the art direction for this initiative, illustrating some buns, as well as designing the website, in-app components and screens.
I'm really proud of the team with this one. However, we should be under no illusion that carbon offsets make air travel sustainable. But the smallest of actions can make a big impact, and this is definitely a step in the right direction — you can't have a go at planting a shit tonne of trees.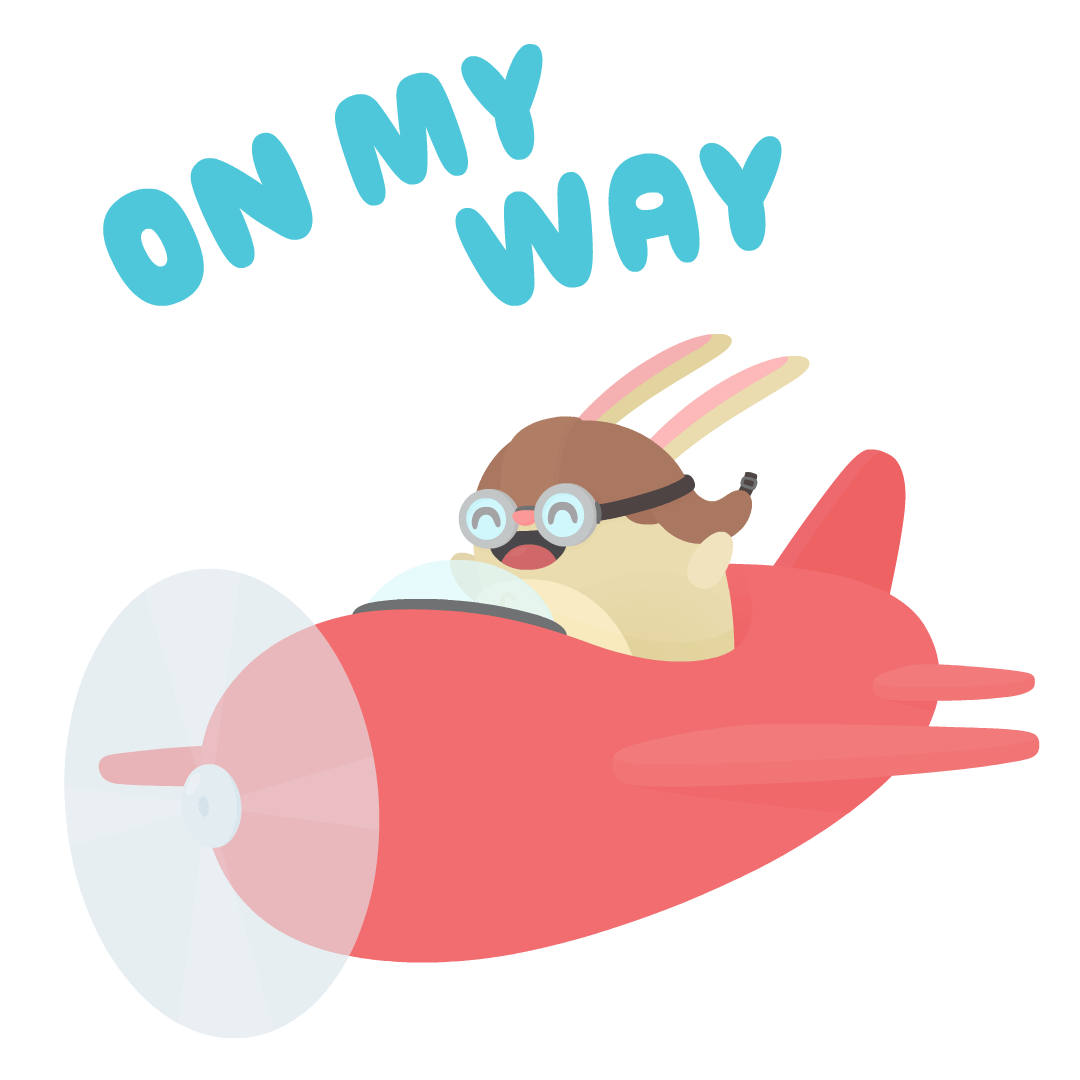 I love animation, but kinda suck at it. So this was a good opportunity for me to have some practice.

Bunmoji
This is a great little side project that I love to work on whenever I get a bit of spare time — Hopper's very own emoji (bunmoji) set.
Space Bunnies
A personal favourite project of mine was this playable ad, Space Bunnies. These ad units are usually for mobile games, but we thought it would be fun to make a cute little game with the buns. The aim of which, is to save as many buns floating about in space, before the time runs out. The game was built by 
Bannerboy
.
App Store Screenshots
We recently revamped the App Store screenshots. We wanted to do something a little different. So, instead of showing full screens, we pulled out UI elements and have some fresh new buns interacting with them, with each illustration flowing into the next. It's a bit playful and far more representative of our brand.
Swag
I do the odd illustration for swag every now and again — mainly lots of stickers, but sometimes the odd tee and that. Here be some country specific stickers that I'm quite fond of.
Landscapes
Cities and landscapes use to make up a huge part of the brand, but they're not used as much anymore. Over the years I have illustrated a large number of cities and neighbourhoods from across the world, as well as more generic scenes. But not once have the buggers sent me on a "research" trip.
rando illos
And finally, here are some random illustrations that tickle my fancy, which were done for smaller projects or for fun.